This blog article first appeared on my
Healer & Creator website
. I am writing down the events of the last few days today on November 16, 2020 after I discovered these remarkable numbers and connections. 11/11, I just saw it as a nice "round" day, but I hadn't thought about whether anything "special" would happen. On this day, I was drawn to self-animated short films. I had already been interested in this for a while a few years ago and then gave it up again due to technical difficulties in understanding and a lack of inspiration. Now, I followed the new call and thought about the wonderful multidimensional content I could convey with short, two-minute animated films. However, I definitely did not want to invent classically structured stories, this tight corset with introduction, middle section ("phase of aggravation") and dissolving finale was too tight for me and I didn't like it, I lacked the access and ideas for this. But maybe a little spiritual mini-series…? A continuing story…? From everyday life? LUNAS AWAKENING was born.
The idea that I received from my consciousness felt great. I literally spent the evening with my left hand quickly buying new animation software ("by chance" at half the price) while my right hand was already scribbling the storyboard for the first episodes of LUNAS AWAKENING on the clipboard. My notes are hard to decipher, because the ideas and insights flowed into me super quickly. With the purchase of the software came the inner promise to definitely do something with it. After a certain development process, it became clear that the project was too big to simply cheat in on the
Healer & Creator
website on the side. It needed a new website for it. My old domain 22colors.de immediately came to my mind, with which I had been producing internet videos for companies for many years. It fit so well together for me, the old company had long since had its day, but despite a friend's attempt to buy it, I still didn't want to give up the domain. There was this vague feeling that the domain should have a better future.
I had already found the graphic style for LUNAS AWAKENING: sparing and temperated pastel tones, soft and warm and pleasant, because the series is about inner healing and energetic techniques. Already in the second episode, Luna will learn the
Healer & Creator
Energy Flow Exercise. Only a few colors, 22 colors, my old video website, everything went together wonderfully for me. This magical master number has its meaning and history, maybe that's why it attracted me so many years ago. Today, a few days later, I find out that I bought the software on 11/11/2020 of all things. 11 + 11 = 22 and even in the year there is another 22 when both zeros are deleted. My curiosity was piqued! What about this Jupiter-Pluto conjunction that my Facebook friends wanted me to come across again and again through various articles? I read it up. This rare planetary conjunction took place one day later, on November 12th, 2020. And now my thinking stopped for a moment: "
It takes place in 22 ° [51 ′] Capricorn
" Again the 22 … The meaning of the constellation also read very well: Old things pass and new and permanent things arise, with many spiritual, creative and spreading Jupiter energies… I have felt these subtle and subtle spiritual energies very clearly in the last few days!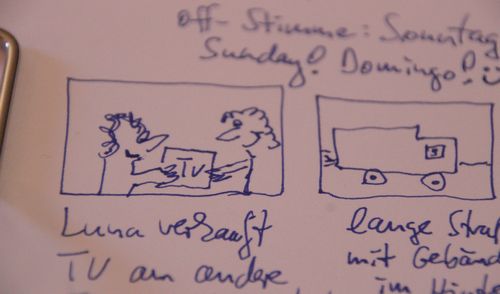 Yesterday, I checked and optimized the storyboard of the first episodes of LUNAS AWAKENING for half the night and brought everything to a round interim conclusion at the end of the sixth episode (the end of "Season One"?). With falling in love and all the trimmings. It just flowed like that… I found the right artist to design the animated main character (Luna) on the same evening and booked her directly after a nice chat. My digitally combined sample picture with a possible Luna variant against the pastel background of the animated world touched me inside. It all went together wonderfully. After that, I felt so super wide awake and enthusiastic that I wrote two or three more pages in my new book
Wir sind Bewusstsein. Erzählungen eines Vieraugenkröpplings
(to be translated into English one day…) to slowly come down again. Despite everything, it was a long time before I fell asleep after that night. The newly emerging idea with LUNAS AWAKENING feels like the fulfillment of a long ago childhood dream. Or does the dream come from a time BEFORE I was born…? Who can already know.
But what I do know: I now have every opportunity to implement such an animation project with short, inspiring content. A television for the New World, as a small, low-budget art project. The abrupt change in my consciousness energies came as a surprise to me too, of course: from a full-time writer (I'm currently writing the third and fourth book this year) to at least a half-day animation apprentice in training. You can think of two things about a story like this: Either Nils is a creative advertising spunk who has come up with a nice, colorful story with a few nice number games… Or the words are actually written honestly and correspond to the perceived truth. I leave this decision up to you, dear reader, just feel inside yourself.
Could that even be, some strange coincidence with numbers and planetary energies and something like that…?
The solution to the thinking dilemma is simple: It doesn't matter how we rate it. We can also leave that open internally. For me personally, it is a jet engine beyond compare! I.e. I will definitely implement the project somehow. But not as a no-budget production. It also has to look nice somehow. So at least, it will be low budget. The little films should touch hearts. I cannot say whether I will achieve such a high goal. The first small test scene is ready, but my animation skills need more training time to be able to produce individual scenes more effectively. But I'm just discovering the many possibilities that suddenly open up. A few years ago, in my video production company, I was bound to "real" film recordings of the three-dimensional world. Now I can easily include subtle energies or content about dreams and out of body experiences. In animation, I can even make someone's thoughts visible to the viewer. LUNA is just waking up … ? May the number 22 bring her good luck.